Major Restaurant, Bar, and Casino Planned for Sioux Falls on S Louise Ave
Sioux Falls-SD, a public hearing at an upcoming planning commission this December 7, 2022, will invite members of the public to discuss the possibility of a Full-Service Restaurant, Bar, and Casino at the location of 7601 S. Louise Avenue, on the corner of 85th Street. If approved, this location will have a Restaurant, Bar, and four (4) gaming rooms. Meaning, depending on their floor plan, you could see fifty (50) video lottery machines under one roof, exactly what some of us said would occur in the future.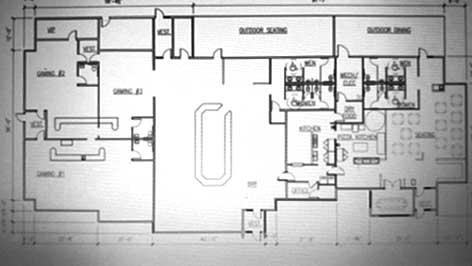 Reynolds Construction Management Services LLC is the applicant and is planning this large-scale casino-type concept plan in south Sioux Falls if the planning commission and city council approve of such plan, to be situated within a C-2 Neighborhood and Streetcar District, and which would be accompanied by a conditional use permit thanks to the closeness in proximity to the twin-home area to the west.
Based on the floor plan, they would be allowed, according to state law, to have up to 50 video lottery machines under this roof, thanks to the plan to have a Bar + four additional gaming rooms.
The City Council just weeks earlier changed the city ordinances to limit these types of establishments to have no more than four malt-beverage establishments under one roof but did not restrict the number of liquor establishments under the same roof.
This was the exact argument that some of us have been saying for the past few months, there is no state law, nor regulation that restricts these types of establishments within the city limits, it will be based on the floor plan, the zoning, and conditions placed on the floor plan.
At a previous neighborhood meeting held on October 27, some of the concerns made by the residents were made public, which included such things as follows:
Discussion centered on safety concerns for the properties to the west. It was decided that the neighborhood would rather have a 6' high fence instead of a berm and landscaping on the west side of the fence. In addition, they would like just one access to W. 84th St. Place as close to S. Louise Ave. as allowed by City Engineering. In addition, a sign depicting no left-hand turn onto 84th Place to limit traffic accidentally turning left into the neighborhood with no outlet. Overall, the majority of the residents within the homeowner's association are supportive of the full-service restaurant concept. This request is similar to what was approved in October 2020 by the Planning Commission.
Some of the public comments made by public agencies, the homeowners association, and planning staff included such terms as follows:
Drainage/Water/Sewer/Police/Fire: Provided a review of all available information and did not have any concerns or comments to add.
Planning: A video lottery casino will not be supported at this location given the conflicts with the existing twin homes to the west.
Access: There are a lot of permanent easements on this lot. Please ensure those are maintained. Sidewalk assessments are due for this site; these are required to be paid before development.
Traffic: W 84th Place is privately owned. The city does not maintain/plow privately owned streets.
Engineering: Civil site plan review required for site development.
This type of floor concept comes just weeks after the city council adopted their newly adopted rules at the previous city council meeting, held on November 15, 2022, of which the new rule will take effect on or after December 5, 2022.
The whole crux of the argument being debated over the previous two months was whether or not we have too many video lottery establishments within the city, and whether we are rewarding too many restaurants and bars with too many video lottery placements. The argument that was made by several members of the city council was whether or not these types of establishments are considered bars or casinos, let alone how many should be placed under one roof.
Two of us stood up, against the newly adopted rules the last time, stating that state law preempts the city in regards to video lottery, let alone the proposed cap may lead to the city being forced into litigation within a public courtroom.
I do believe, these types of floor concept plans are the future of video lottery in South Dakota, let alone, I also while supporting the 'cap theory' for the sake of public input, and to bring force the legislature and the courts to rule on the matter, I also spoke out against the cap cause the fact remains - these types of 'establishments' of the future, and if we are correct, a cap only hurts small mom and pop businesses more so, than it will hurt these large investment firms placing these types of large casinos around the city
I also made the argument, do we really have too many video lottery establishments in the State, let alone the city? Well upon requesting information from the city's licensing office, I prove that argument invalid, and not true at all...
Currently, there are 6,200 Alcohol and Liquor Locations across the State - of those locations, we have statewide placed 1,320 video lottery licenses in those outfits, roughly 21.3% statewide, while in Sioux Falls we have 985 alcohol and liquor locations, while we have placed video lottery in 23.3% of those possible locations. So, we have done a fairly good job of suppressing gambling.
These are the very types of concepts we should be rewarding video lottery placements to, while at the same time, allowing for the small 10-machine, smaller bars and taverns to remain placed around town at the same time.
My thoughts were, these types of 'establishments' shall be defined as Adult Use Entertainment Facilities, such as strip clubs, let alone medical marijuana dispensaries - all of which we have the lawful right to space these types of concepts apart from each other by 1,000 feet, as well as 1,000 feet from sensitive land uses (churches, schools, residential, parks, etc).
For those of us who attended all the public hearings, and heard all the arguments for and against whether we want to suppress gambling, or prohibit large casino-like outfits if approved, their entire argument was for not, as per discussion, the city council basically told places like Crown Casino, Tomacellis, and Deuce Casino that these types of outfits will be not accepted.
This discussion looming over the next few weeks is going to get very much interesting because, in our honest opinion, the city council has a huge decision to make. How do you say no to 3 businesses, but allow for this concept to move forward?