Do You Remember - RAMP TO NOWHERE
How much do you know of the former concept plan where Northern Minnesota Avenue once had the by-pass ramp by the Airport. I thought of this today as I was driving through Sioux Falls as I often love to do, along with walking or riding my bicycle, just thinking of what Sioux Falls was, is, and may be soon.
As I tell the story of the once proud highway system that once flowed thru Sioux Falls, I am thinking of what was the concept plan during the 1950's to build the 'by-pass' by the airport. If you are as old as I am, and as interested in our history as I am, you may remember this by-pass ramp, the ramp to nowhere, that sat roughly about the point along Minnesota Ave where today sits the southern portion of the Airport parking lot, today Hertz and Enterprise have their detailing garage on this location.
As I search and seek out our history, something I love to do often, getting out and exploring the area, having some fun throughout that process, while locating a part of our proud history within the boundaries of the city.
But first, let me tell you the story of the former "Highway System" that once connected Rapid City, South Dakota to Valley Springs, South Dakota on the border of Minnesota, and Larchwood, Iowa on the Iowan border, while Sioux Falls became the great junction where these highways all met at its center.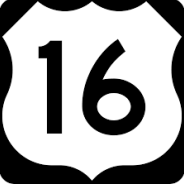 OLD U.S HWY 16 - the story of the old S.D Hwy 16 Highway System must be told, and through the memories of our grandparents, it linked east vs west South Dakotans for decades as far back as the 1930's onward thru the late 1980's
With the advent of the Federal Interstate System of the 1950's - there was no longer a need for the old highway, quickly fading away as more and more drivers chose to take the faster expressways across the State.
Remains of U.S Hwy 16 Connecting Cleveland Avenue to N. Chapel Hill Rd.
Many of our ancestors, parents, grandparents, to great-grandparents would travel this road en route to the Black Hills each summer. Parts of this old highway are still used today, while other parts are mostly gone, while in Sioux Falls - you have to look real close to find the last remaining remnant of the old highway. As for the Sioux Falls Area - the junction of 12th Street and West Avenue marks the point where Highway 38 and Highway 16 came together as the two former highways merged as one as it passed through the City of Sioux Falls, South Dakota.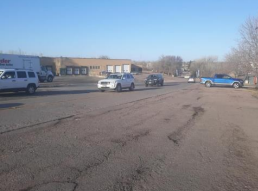 S.D Hwy 38 connected the towns of Chamberlain, Mitchell, Montrose, Humboldt, and Crooks to Sioux Falls; where it curved south and connected Madison Street to Burnside Street connecting to West Avenue. This junction created the infamous 6-way stop sign at W. Madison, N. Lincoln Ave, and Burnside Street.
S.D Hwy 16 would wind its way from Rapid City across lower South Dakota where it would connect to 12th Street on the west side of Sioux Falls.
That is where the two Highway Systems came together as if they were commonly known as 'one system'. Together from the intersection of 10th Street and West Avenue - the two would travel through the heart of Sioux Falls passing through Downtown, up and over the Sioux River, merging into East 10th Street where the two would split at the point of where East 10th and Cleveland meet today. Pizza Hut was once a small fuel stop as motor vehicles passed by.
S.D Hwy 16 then curved and went Northwest up and around what is today Hills of Rest Cemetery merging with 6th Street headed east, finally taking the large "S" Curve connecting to Madison Street where it would finally head due east to link up to the southside of Brandon on thru Valley Springs to the eastern edge of the State.
Whereas S.D Hwy 38 would continue due east along East 10th Street (Hwy 42 today), where it headed southeast connecting East Sioux Falls, Split Rock Township, passing the Quarries, on thru to the Town of Rowena and finally to Larchwood, IA.
These two former highways were the pathways once connecting the Cities of Sioux Falls and Rapid City long before the Federal Highway System was ever dreamed of.
As the Federal Interstate System quickly became the source of travel, and other highway systems quickly developed, these old highways quickly became a shadow of themselves.
S.D Highway 38 still is very much active today, except it no longer travels down the heart of Sioux Falls, as it was re-routed along North 60th Street connecting to Cliff Avenue in the north; whereas the southern portion of the once proud highway morphed into what has become Russell Street connecting I-29 to North Drive once connecting to Cliff Avenue on top of the Bluff.
As for S.D Highway 16 - this poor highway has pretty much faded into the history books, at least for the eastern portion of the State. Much of 12th Street has transitioned as part of S.D Hwy 42 as well as conjoining as part of the S.D Hwy 11 connecting Sioux Falls, Brandon, and Canton in the south.
You have to look very hard to find any remnants of the Old Highway 16, but if you travel to the spot just north of the intersection of East 10th and Cleveland Avenue, there is one small patch of roadway that no one knows exists any longer, it's merely hidden as a small cross roads connecting parking lots for Pizza Hut, the Old Sara Lee Bakery, and the new Hy-Vee Grocery Store.
A walk down this small patch, will give you somewhat of a nostalgia, or a sentimental longing or wistful affection for the past, typically for a period or place with happy personal associations.
The old highway that would flood due to the way the old curbs were designed along these old highways, much like buffer strips today, that once connected the Black Hills to Sioux Falls.
Just think, dream of a day gone past; the year was 1936 -
Can you buy the idea that a highway is a community? A long and narrow one-street town that connects places and people, good and bad happenings and a crazy conglomeration of dogs, deer and duck ponds? If a road is a community, then imagine South Dakota's U.S. Highway 16 in its heyday. Gutzon Borglum was traveling 16 while carving Mount Rushmore. Korczak Ziolkowski helped him for a time before eyeing his own Crazy Horse carving just down the same road. Dorothy and Ted Hustead were nailing wood signs to fence posts, hoping to attract motorists to their Wall drug store. George McGovern was a shy student at Mitchell High School until he discovered a passion for debate, and motored up and down the highway attending tournaments. Sparky Anderson, the Hall of Fame baseball manager, was learning balls and strikes in Bridgewater, where businessmen promoted their stretch of 16 as Cornhusker Highway in honor of the local baseball league.
If an old highway was a Community, a community of towns, people, a historic pathway into our past, that was the once proud S.D Hwy 16!
Visit the last remaining section of S.D Hwy 16 right here in your own backyard, right here Sioux Falls - a little piece of nostalgia.
That brings us back to the "Ramp To Nowhere":
What was the plan - In my opinion as it relates to our history, the concept plan was to connect North Minnesota Avenue to "U.S Highway 77" to the east.
It would have crossed the diversion channel, then connected somewhere to North Drive where U.S Highway #77 connected to Cliff Avenue. It would have been a major connection point to North Cliff Avenue prior to the Benson Rd Development years later (90's).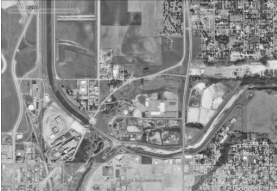 Former view of North Minnesota Ave, and N. Drive where the Ramp would be built creating a By-Pass to U.S Hwy 77
If I recall, this section of Minnesota Avenue was built or extended northbound during the decade of 1950-1960 when much of the redevelopment took place to build the Airport, while converting much of the army base to Industrial Use today, thus building this major connection point to the former U.S Highway System
At the time U.S Highway #77 utilized much of Minnesota Avenue coming up from the south to 3rd Street, jogged east to N. Main Avenue, then north to North Drive where it went past the Prison and curved north connecting to Upper Cliff Avenue heading north. If you took the road going down the Bluff towards Barney's, formerly Ash Street, you would be headed soutbond along Cliff Avenue to E. 10th Street where it would have met U.S Highway 16 and S.D H
So with the new interstate system, there was no longer any need to connect North Minnesota Avenue to the old, former U.S Highway System.
That would have made the most sense, as to why this 'by pass' was never completed, and it was not until years later, during the 1990's did we re-create the northern stretch of Minnesota Avenue, finally building that connection across the diversion channel, this time, the Benson Rd connection.
For those of us who remember, the "Bypass", it was pointed in that general direction of the former highway, so that may have been the original concept. and tell all signs for its purpose. It would have become the main junction connecting U.S Hwy 16 and U.S Hwy 77 which would have made sense if you wanted to route traffic at the Sioux Falls Regional Airport.
It was not until years later, when during the 1990's, as the City of Sioux Falls adopted a new form of government, becoming a home rule charter city, the new government created the new concept plan, removed the by-pass, built the new Water Treatment Facility, then extended Benson Road to connect to northern Minnesota Avenue which would finally built that connection to Cliff Avenue. This new connection then built the new bridge over both the railroad and the diversion channel, and North Drive today is no longer a thru road today.
Many people do not remember the two former U.S Highways that once ran through the heart of Sioux Falls - U.S Highway 77 and U.S Highway 16, along with how State Highway #38 once connected these two highways about where West Ave connects to West 12th Street today. But they formed a part of our history.
U.S Hwy 16 would connect Wyoming to Valley Springs; while U.S Hwy 77 would connect Kansas City-MO to Fargo, North Dakota in the north, while S.D Hwy 38 became the focal point that merged the two federal highways together, thus creating one major highway system, with Sioux Falls as a major junction point, while S.D Hwy utilized much of the same route as U.S Hwy 16, as it connected Rapid City to Larchwood, Iowa.
Now you know that Sioux Falls was the heart and center of a major highway system that once connected it to Rapid City, to Valley Springs, then to Fargo in the north, Kansas City in the south, while the state highway played a similar role connecting Rapid City to Larchwood, Iowa. Knowing the former routes of these inter-connecting highways, you begin to understand some of the layouts of existing streets within the city's core - such as why we got the two one-ways known today as 10th Street and 12th Street, and how they looped together at Grange Avenue. It was all because of how the three highways all met in Downtown Sioux Falls. The intersection of 10th Street and West Avenue bridges that gap allowing U.S Hwy 16 to connect to E. 10th Street.
The "Ramp To Nowhere" played a small role in that once proud history, and by looking at satellite maps, you can still see its path today. Our history is all around us, all you have to do is take the time to look, and you will find it eventually.