The Former Downtown Sioux Falls Traffic Loop - East, West Merging Lanes @ Grange Avenue
Our "Loop" Became Our Version of Dealey Plaza in Dallas, both were Created During the Same Period in Time.
To better understand why you once made that left turn, merging back to Downtown, can also be tied back to the original "Highway System" that once passed through the heart of the Town of Sioux Falls.
This would be roughly the period of 1936 to 1950 when the Federal Government built two major highways that connected Wyoming in the far west to Chicago in the far east - this became known as U.S Highway 16, which also coincided with S.D Hwy 38.
The second major highway would have been U.S Highway 77 which connected Winnipeg in the far north, and Kansas City, MO in the far south, which conjoined, and utilized parts of, or all of North Cliff (developed in 1950's), heading south, which connected to North Drive, then Main Avenue, 3rd Street, then heading south along Minnesota Avenue.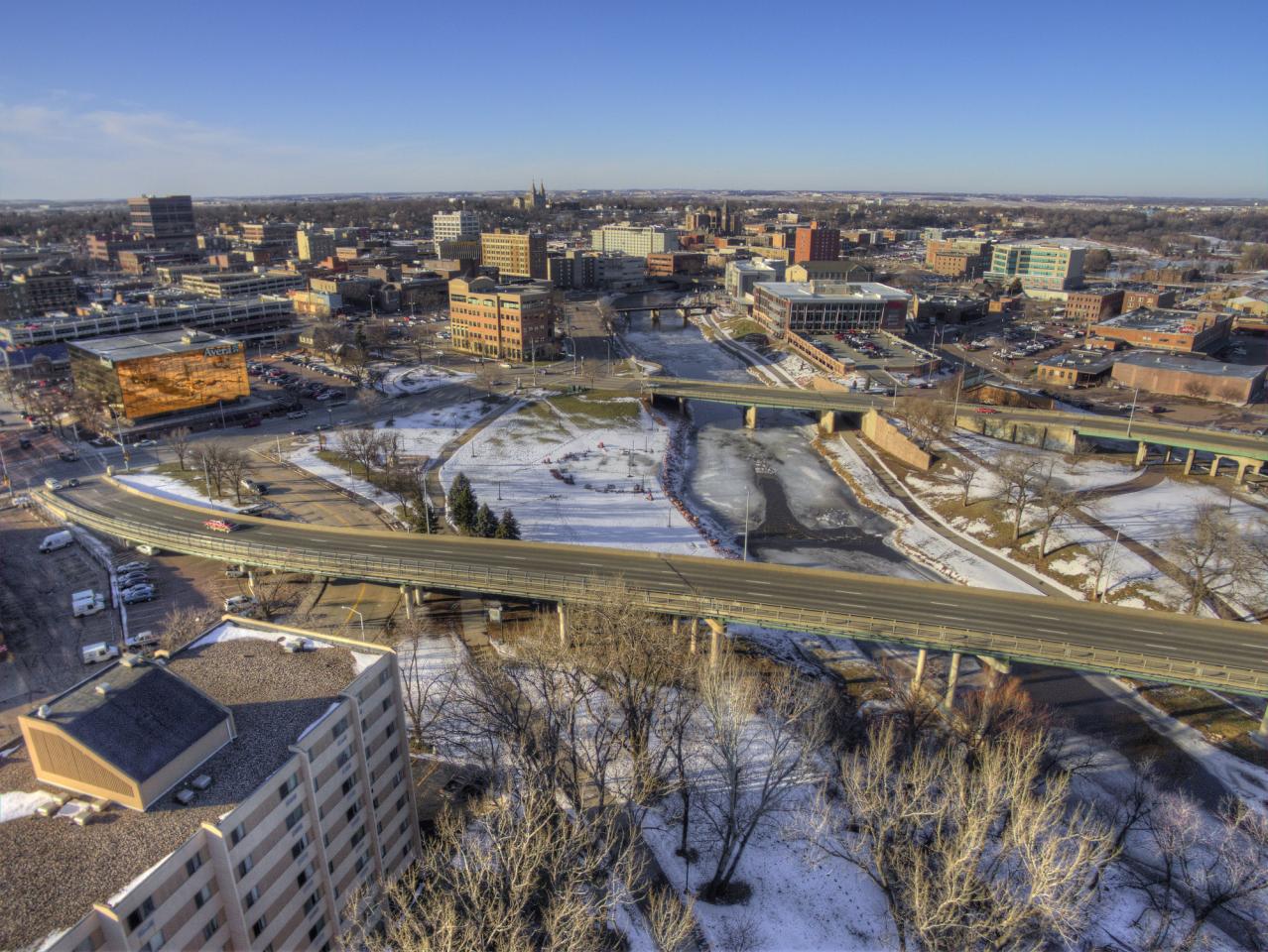 Also, during this time, there was not much 'west' of Grange Avenue - you really had four "townships" known as the Town of Sioux Falls (1879), East Sioux Falls (1880), West Sioux Falls (1902), South Sioux Falls (1930), along with private Homesteads 80 acres in size such as the Tuttle Family, Lyons Family, Axtel Family, Pettigrew Family, Brookings Family, Phillips Family, Van Eps Family, and the Air Force Base built within the Covell Springs...
During the 1950's - the Federal Government was building what became known as the "Ramp to Nowhere" near the Airport during the same period of which the Air Base was downsizing its massive land area that once extended from Algonquin Ave south to Burnside Street, stretching from Covell Lake west to Elmwood Ave.
The "Ramp" was to reroute motor vehicle traffic away from Downtown Sioux Falls, by crossing over the Diversion Channel connecting to Northern Minnesota Avenue, where you could then merge to the north to the Airport, or merge to the south. IT was to follow North Drive, making a huge sweeping "S" Curve towards the Airport, behind the State Prison.
Also, this would be the same period of which Dwight Eisenhower became President, and led the movement to massively build the new Interstate System, a new concept of which would become part of a large "Defense Act" to move military vehicles connecting D.C to all of the Federal Military Bases throughout the country... I-29, I-229, and I-90 was born.
The "Ramp" which was being planned between 1945 and 1955 was then not finished, while becoming known as the "Ramp to Nowhere" that some of us all remember.
During this same period, the Town of Sioux Falls, 1936 to 1956 was in the midst of Urban Redevelopment, of revitalizing, and rebuilding what today became Downtown Sioux Falls. Prior to 1940, it was simply the Town of Sioux Falls located south of 6th Street, north of 14th Street, east of the River, but west of Minnesota Avenue.
This massive former "Highway System" that utilized S.D Highway 38 and S.D Highway 115, along with U.S Hwy 16 and 77 - helped move motor vehicle traffic through these towns.
U.S Hwy 16 utilized S.D 38 from Rapid City to Valley Springs, but in Sioux Falls - it utilized West Madison Street, Burnside Street, headed southbound along West Ave, then headed east along W. 10th Street through the Town of Sioux Falls onward to E. 10th Street, where it split at the corner of E. 10th and Cleveland Ave - from there, U.S Hwy 16 merged with E. 6th Street, making that large "S" Curve connecting to E. Madison St to Brandon-SD.
While S.D Hwy 38 continues along E. 10th Street and S.D Hwy 42 to the Iowa border.
U.S Hwy 77 utilized mostly S.D Hwy 115 (north and south) utilizing North Cliff Avenue, where it merged at the top of the Bluff, sweeping by the Monument, merging with North Drive, past the State Prison to Main Avenue, then headed south to 3rd Ave, where it merged with S.D 115 south bound to Kansas City, MO.
Here is where the Ramp to Nowhere makes perfect sense between 1945 to 1955. Its intent was to completely by-pass what would soon be Downtown Sioux Falls near the end of the 1950's. But with the birth of the Inter-State Concept Plan, it was never completed.
As for Sioux Falls, a new plan to revitalize the western part of the Downtown Area - the new local plan was to completely remake the 'pathway' through the Town of Sioux Falls.
In 1961 - Sioux Falls led the movement to convince the Legislature to adopt a resolution to clear motor vehicles off of city streets, seeing them as a blight on the land, with the new concept of building Parking Ramps, Garages, and Parking lots, but during this same period, the plan was also to reroute motor vehicle traffic as it passed through Downtown Area.
From 1936 to 1955 - Second Island was completely filled in, the Flood Walls were built over the island itself, massive tons of dirt and fill brought in behind the 'walls" between 7th Street and 10th Street, while Second Ave now connected to 9th Street routing traffic away from the focal point of Downtown, which moved motor vehicles from 14th Street, north along 2nd Ave, connecting to 9th Street to Minnesota Ave creating that pathway to West Avenue, onward to Kiwanis Ave, finally connecting to W. 12th Street near K-Mart.
The 10th Street viaduct, which prior to 1960, was the only viaduct, was completely rebuilt, to its current style, but from 1960 to 1970, they rebuilt W. 10th Street to become a major 3 lane, 'west bound' street from 2nd Avenue west to Grange.
Keep in mind, 10th Street (1960) was still part of U.S Hwy 16, so the plan was to merge the new west bound traffic from 2nd Ave to merge with W. 12th Street or S.D Hwy 42.
It was this new plan, which created the "Loop" as it created that eastbound "Merge" lane taking motor vehicle traffic back to the east along 11th Street, which by 1978, we would build the "Eastbound Viaduct" connecting back to E. 10th Street. So, at this point, you could go either east or west along S.D Hwy 42, thus allowing motor vehicle traffic to connect from the Iowa border, westward to Canistota, South Dakota.
With the birth of the new Inter-State System, most of U.S Hwy 16 was no longer necessary.
W. 10th Street by 1980, became simply another 'east-west' street from Grange Ave to Kiwanis Avenue, still connecting to W. 12th Street itself.
The "Ramp to Nowhere" which sat vacant during the period of 1965 to 1995 as West Sioux Falls quickly began to merge with the Town of Sioux Falls itself.
With the creation of W. Russell Street forming that connection with the I-29 Interchange in the 1950's - rerouting motor vehicle traffic onward through the former Air Base, thus connecting the new "entertainment district" of Howard Wood Field, the Arena, the BallPark, to Minnesota Avenue, pretty much replaced the former route of S.D Hwy 38, let alone U.S Hwy 16 as the new connection point from East, West South Dakota.
By 1972 - the Towns of Sioux Falls, East Sioux Falls, West Sioux Falls, South Sioux Falls, let alone the small 80 Acre Homesteads of the Lyons, Phillips, Axtel, Van Eps, Pettigrew, Brookings, Merediths, Tuttles, quickly became the "Municipality of Sioux Falls".
By 1995, we became the "City of Sioux Falls" as landowners, property holders adopted the Home Rule Charter, thus transitioning to a new government entity, thus "Shaping" Sioux Falls long into the future, thus the new Planning and Zoning Ordinance Shape Places 2013.
During Mayor Dave Munson's term (2002 to 2010) - the plan was to further clean up Downtown, remove the the so called Riff-Raff, the loiters, from the area, and close down what became known as the "Loop", they removed the 'eastbound' merge lane at Grange, removed access to 11th Street, thus redesigning the intersection, to 12th Street.
My dad, who grew up, by living in a small white home near the corner of Western Ave and 10th Street, once told me the story of what life was like residing on the former U.S Hwy 16, which was part of W. 10th Street, he often tells me that this section of road was a major truck route as S.D Hwy 38 came in from the west, passing through Sioux Falls, to Brandon.
One small remaining part of U.S Hwy 16 now stands as a testament behind Pizza Hut on the corner of E. 10th and Cleveland Ave.
During a moment in time, in our common history, both the citizens of Dallas, and the citizens of Sioux Falls were both attempting to rebuild, and create uniquely, a proud Grand Entrance into their Downtown Area, both utilizing U.S Highways, a network of Roadways with the intent to move motor vehicle traffic quickly through their downtown areas. Where Dallas has the legacy of the John F Kennedy Assasination, the People of Sioux Falls have the legacy of "The Loopers''. However, both developments have made lasting effects on their communities, in such a positive manner, that they both changed how 'we' get to and from our main focal points - Downtown.